Lingerie
In our lingerie department, we have baby dolls, teddies, chemises, bra and panty sets, and hosiery.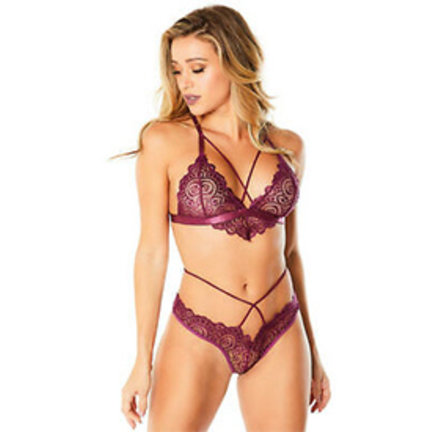 In our lingerie department, we have baby dolls, teddies, chemises, bra and panty sets, and hosiery.
Take control over the direction of your evening by slipping into something a little more comfortable. Sensually Yours is here to help make your wildest fantasies come true. Dress the part with our incredible selection of ladies sexy lingerie and make your partner fully lose their mind. What better way to show your desire to kick it up several notches than the perfect sexy lingerie outfits?
$ 9.95

Crotchless thong with pearls and venise detail.

Compare

$ 39.95

Lace open cup crotchless teddy with lace straps and back closure.

Compare

$ 64.95

Reveal your taste for the dramatic with this lace merriwidow!

Compare

$ 34.95

The Elaina Lace and Strap Shelf Bra Set is sure to excite all your senses this season!

Compare

$ 49.95

Get lost in the romance of this gorgeous 2 PC lingerie teddy and lace robe set!

Compare

$ 42.95

Flirty looks with a naughty side, this 3 PC lingerie set is sure to get things hot!

Compare

$ 39.95

Compare

$ 29.95

Bring on the romance in this flirty 3 PC lace lingerie set!

Compare

$ 59.95

Silver lurex lace, mesh and microfiber chemise with molded underwire cups, adjustable shou...

Compare

In Business Since 1984
Fast Discreet Shipping
Free Shipping over $49.00

30% Off

124.95 $ 87.47

Sadie Corset, features sequin silhouette with support boning, steel front busk closure, an...

Compare
Browse Our Lingerie Closet 
We have no shortage of looks and styles for you to choose from in our extensive closet at Sensually Yours. Our dedicated staff is well aware of how trends are forever-evolving in the lingerie world and we're eager to stay current and give you the freshest, sexiest looks. 
Tell us, what are you into? Perhaps you're searching for tantalizing teddies that will encourage your partner to get a little bit closer? (What will it be? Leather or lace?) We also have a seductive collection of panty sets, including crotchless panties that are sure to make your partner go absolutely wild. Sensually Yours also offers the hottest assortment of baby dolls, chemises, corsets, and garter belts for your nighttime, (or hey, daytime!), pleasure.
We take pride in our fabulous selection of sexy lingerie outfits and encourage our customers to expand their sexual horizons in all ways that feel good, beginning with the outfit you put on to lure them to heightened pleasure zones. Shop for all of your ladies sexy lingerie needs today at Sensually Yours!