Costumes & Role Play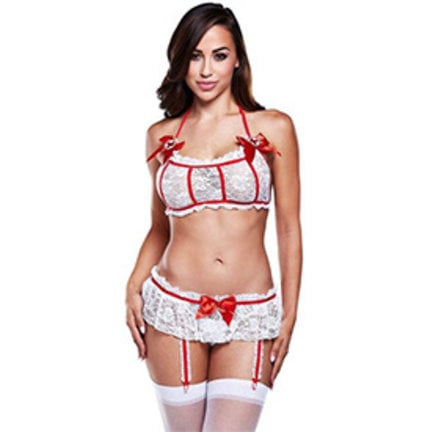 Slip into something a bit more delicious. Sensually Yours has an incredible assortment of sexy unique costumes we know you're going to love and never want to take off. Ensure all eyes are on you when you play dress-up with these high-quality costumes. Sensually Yours has got you covered with all the looks, from classic school girl to the kinky French maid. Come on and let your imagination run wild with our tantalizing wardrobe selections.
-20% Sale

69.95 $ 55.96

4 PC Grecian Goddess, includes dress with braided halter harness, emblem belt, leaf headba...

Compare

-20% Sale

59.95 $ 47.96

Whether you're torturing unfortunate souls or just hanging out with your favorite little m...

Compare

-20% Sale

59.95 $ 47.96

2 PC Tuxedo Bunny, includes tux and tails garter teddy with attached bunny tail and bunny ...

Compare

-20% Sale

19.95 $ 15.96

Stretch-knit plunging neckline shirt with cap sleeve and front tie closure. 

Compare

-20% Sale

59.95 $ 47.96

Who's ready for a sponge bath?

Compare

-20% Sale

64.95 $ 51.96

6 PC. Dirty Cop, includes hat, button front dress,fingerless gloves, belt, tie and walkie ...

Compare

-20% Sale

64.95 $ 51.96

Oui Oui, Halloween just got a whole lot sexier with the 2 PC Merry Maid costume!

Compare

-20% Sale

12.95 $ 10.36

Plaid pleated school girl skirt.

Compare

-20% Sale

29.95 $ 23.96

Classic School Girl Outfit

Compare

-20% Sale

29.95 $ 23.96

You won't be putting out any fires with this outfit. It's more like heating things up.

Compare

In Business Since 1984
Fast Discreet Shipping
Free Shipping over $49.00

-20% Sale

59.95 $ 47.96

Being a little naughty is this schoolgirl's number one skill.

Compare
Play Dress-Up Any Time of the Year
Sensually Yours offers sexy unique costumes all year round (because we don't think you ever need an excuse to play dress-up), but Halloween is our favorite time for fully stepping up the costume game. We have sexy adult Halloween costumes that will turn every head at the (virtual!) party. Browse our collection and decide what it's going to be this year. Maybe a sexy witch? How about a fiery hot queen or a naughty flight attendant? Let Sensually Yours help make this your best Halloween yet with our selection of fantastic costumes to choose from.
The Best Unique, Sexy Costumes 
Sensually Yours carries sexy unique costumes in a wide variety of sizes and styles so you'll be sure to find exactly what you're looking for. Need assistance? Feel free to reach out to our knowledgeable and friendly staff who are ready to point you in the right direction. 
For over 35 years, Sensually Yours has been the go-to adult store on Oahu. Carrying the most up-to-date product selection, we're confident we have everything you need to turn up the heat. And remember, dress-up isn't only for Halloween. Make an ordinary night extraordinary with our sexy women's costumes.