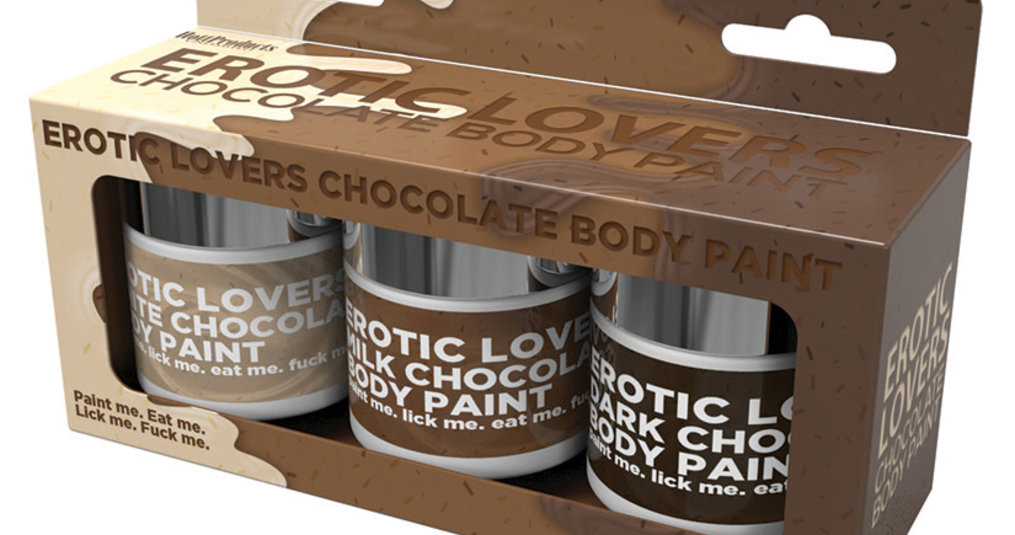 Spice up your Valentine's by adding a little flavor to your bedroom play. We've taste tested some of them to help you figure out which ones you should try. Our favorites are the Exsense warming oils, Rock Candy Popping Fruit and Erotic Lovers Chocolate body paint.
Let's talk about the oldie, but so, so, goodie Valentine's Day. While there are differing opinions on how the holiday actually came to be (hello, Lupercalia! St. Valentine, we see you over there), one thing is for certain: it's all about romance today! Take a second and think about what that means to you. Flowers, chocolates, fancy candle-lit dinners, trails of rose petals that lead to the bedroom… And of course, what happens behind closed doors. In the spirit of that romantic mindset, Kyrie and Jess compiled the most requested items for spicing things up in the bedroom and put them to the test…
The Taste Test, that is! (get your minds out of the gutter! 
Nothing was off limits. We tested the a-z of the sensual world! Starting with…
BJ Candy Cock Ring – Remember those candy necklaces from the '90's? That's exactly what the Candy Cock Ring is, except made smaller for blow job fun! All of us had differing opinions on how to actually use it, aside from how to put it on and really, the sky's the limit! Add some sweetness to your foreplay but be mindful of your teeth! All in all this one had very little in the way of taste, but it was sweet. We all agreed that this would be a pretty fun thing to add to a date night or V-day sexy session.
GoodHead - Oral Delight Gel -4 oz- Sweet Strawberry - Ladies and gentlemen, allow us to introduce you to the OG of the oral sex world! These come in all sorts of flavors, but we tried one of the original flavors: Strawberry. Like the candy cock ring, this is a little messy but in a fun way! Just remember that any mess can easily be cleaned up with a little creativity in your oral session (or soap and water). Apply 'til your heart's content and go to town! The flavors are delicious, though the texture is a little strange. These are sugar free, making them completely body safe.
Poppin' Rock Candy Strawberry - This is a really fun one! Don't be afraid of the term "popping". These candies taste delicious and the snap-crackle-pop is so much fun. Gentle enough for really fun bj's, this stuff is sure to electrify your foreplay session. Who says you can't have your cake and eat it too? (This product does contain sugar, in case you were wondering.)
Kama Sutra Honey Dust Kissable Body Powder-Vanilla Crème - Have you ever wanted to be silky smooth, smell like a marshmallow and taste sweet like one too? That's exactly what Honey Dust does! The key is to dust it lightly over the parts you want kissed and then have fun! Fun fact: Kama Sutra Honey Dust is also moisture wicking! Functionality plus fun foreplay? Yes, puhlease!
Kama Sutra Oil of Love- Strawberry Dreams - Warming body toppings are always a hit in the bedroom and with Oil of Love, it's really easy to see why. Sensory play is always so much fun and when you add things like touch and breath to your arsenal, you totally level up your foreplay game. It's important to remember that despite its name, this is not a massage oil. There is no oil in it. And don't forget to blow on it once applied! That makes things get nice and warm!
Dental Dam Strawberry - Safe sex is the best sex. Dental Dams are one of the more over-looked options for safe oral sex! These thin sheets of (sometimes flavored) latex make both vaginal and anal oral play super safe and are completely safe to use with the flavored lubricant of your choice. The taste on the one we tried was super subtle (as in we couldn't taste it) but it didn't hinder sensation at all which is a huge plus in our books!
Insane Personal Moisturizer Foils - Buttered Rum, Caramel Apple, Cherry Pop, and Cinnabon – Have you tried On Arousal Oil? It's a powerful botanical formula that creates a warm and extremely unique buzzing sensation that awakens the nerve endings, increases blood flow and heightens sensation! Now, imagine all that buzzy goodness paired with a hybrid lubricant with some flavor thrown in for fun. Sounds epic, right? It was! The sensation was really, really cool. We weren't super fans of the flavors, but these would be so much fun to play with in the bedroom! Use like you would any kind of personal lubricant and enjoy the added taste if you incorporate them into your foreplay session
Erotic Lovers Chocolate Body Paint 3pk – All right. Guys, these were delicious. They look a little intimidating when you first open them but give them a stir and they'll melt enough to actually paint with them. This is one of the messier things to play with, but super worth it. Hey, showers can be sexy too!
Exsens Warming Massage Oil Foils-Hot Vanilla - These oils blew our minds. Most warming massage oils don't immediately get as warm as this one did. You typically need to blow on them to get the sort of sensation these have. Blowing on these made them super warm and we were impressed. Plus, they taste really good! Don't mind us as we stock up on these fun oils because "Whoa!" 
Lifestyles Flavors Condoms- Banana and Vanilla - Okay, quick disclaimer. Kyrie did not die (or have any negative reaction at all to the banana flavored condom… even when she tried it on an actual banana), in case you were wondering. One thing that we thought was interesting with these is that they didn't have that balloon-latex kind of smell. However, like the dental dam, they flavor was so subtle that we couldn't taste it. As a safe sex option, we love them and the general concept but again, these are compatible with your favorite flavored personal lubricants. (We recommend System JO! ) 
Gummy Sutra Sex Positions Gummies – These are really fun. They're great for fun gag gifts but you could totally make a sexy game out of them! Which position will you try? They're all individually wrapped so put 'em in a bowl and let the fun begin! And, as an added bonus, they taste great too!